About us
Stop by Quan Viet in Cremorne for delicious Asian or Vietnamese meals. The chef recommends entrees such as slow cooked pork belly, grilled chicken thai fillet, chicken ribs or crispy chicken skin. For those patrons looking for a snack or appetizer, try the crab and prawn spring roll or the northern or southern spring roll. Some diners enjoy salt and pepper calamari or prawns or dishes like spicy tofu or stir-fried vegetables. A variety of salads as well as pho are also available. Steamed rice, tomato rice, Asian slaw or steamed vegetables make nice side dishes.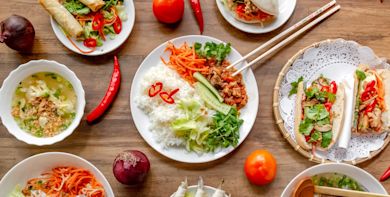 Reviews
Mia
"Very tasty Beef pho, will definitely order again."
14/11/2019
David
"Great service and great food - just a wonderful service !"
3/11/2019